Date: 31 May -1 June 2016 (Tuesday & Wednesday)
Venue: The Hong Kong Jockey Club Amphitheatre, The Hong Kong Academy for Performing Arts
In the backdrop of flourishing and vibrant arts scene in Hong Kong and neighboring countries nowadays, arts administrators face greater challenges in various areas, such as venue management, box office, funding and sponsorship. In a time of paradigm shift when personal and geographical barriers are broken down by high-speed internet and other technologies on a daily basis, the society we live in is constantly reshaped by social, political and cultural shifts. As arts managers and artists who, by the nature of our work, operate on these tectonic plates, we need to examine our operational models regularly, in order to be relevant and succeed. 
Cultural Leadership Summit is Hong Kong Arts Administrators Association (HKAAA)'s annual major event. With different themes every year, the HKAAA pursues professionalism and constructive dialogue in the practice of arts administrators. With the theme "The Art of Successful Collaboration", this year's Cultural Leadership Summit aims to explore the possibilities of collaborations within the culture field and beyond, promoting more integration between arts, business and other sectors for a prosperous future. We will be looking for collaborative frameworks that inspire us to engage in new and different ways within our creative environment, with impacts far reaching beyond the sectoral boundaries.
The two-day symposium, with talks, workshops, round-table discussions and networking sessions, will bring together renowned cultural leaders and creative entrepreneurs from the city and overseas. The Summit aims to help further understanding the issues of successful collaborations between Artists and Managers, their creative spaces and different cities, as well as the society at large, for a prosperous future.
The Summit will benefit arts administrators from all sizes of organizations, arts entrepreneurs, artists, educators, and decision makers of non-profit sector and corporations, as well as anyone who is tasked with developing collaborative spirit and relationships in the future of their arts and programmes.
2016 Cultural Leadership Summit Programme Rundown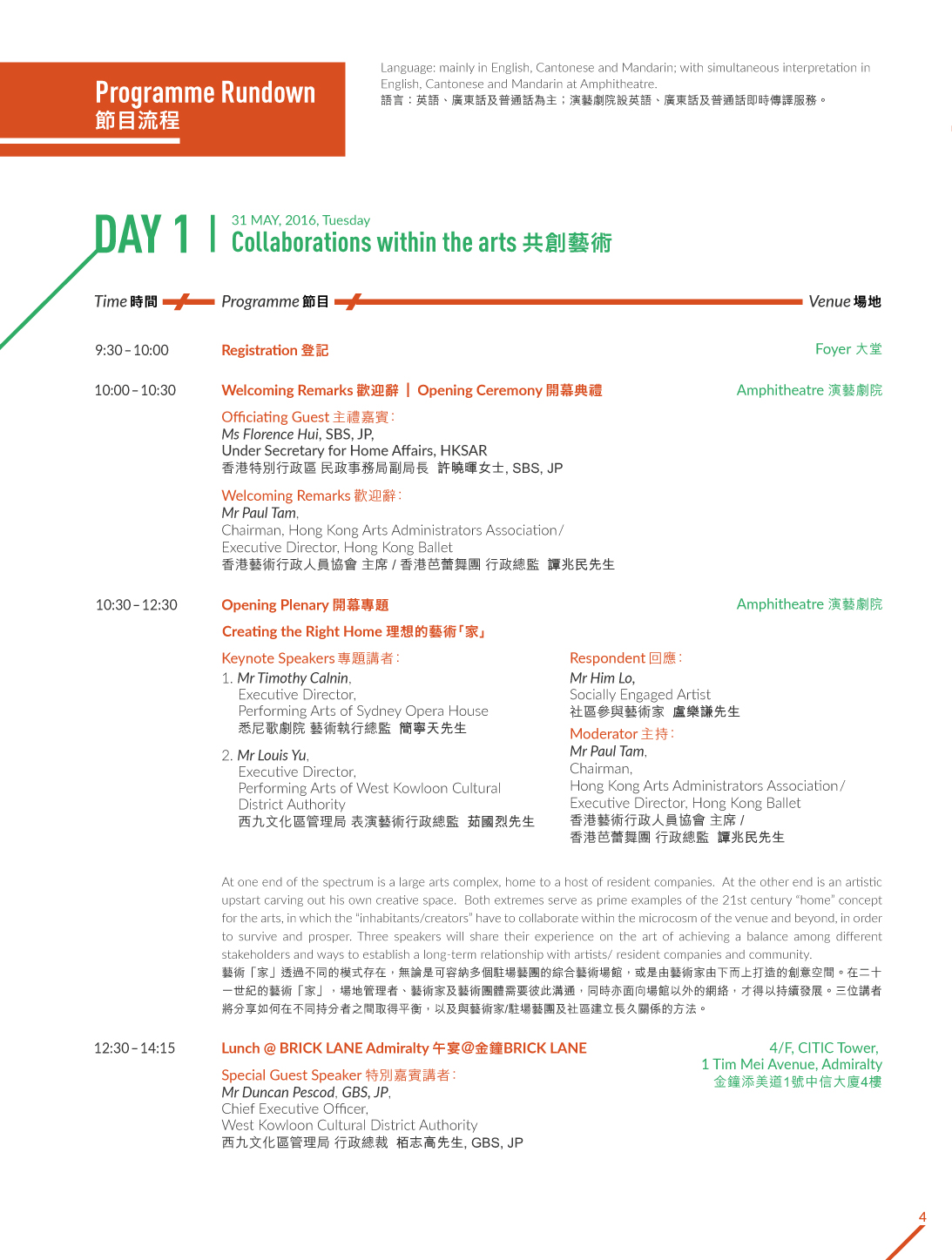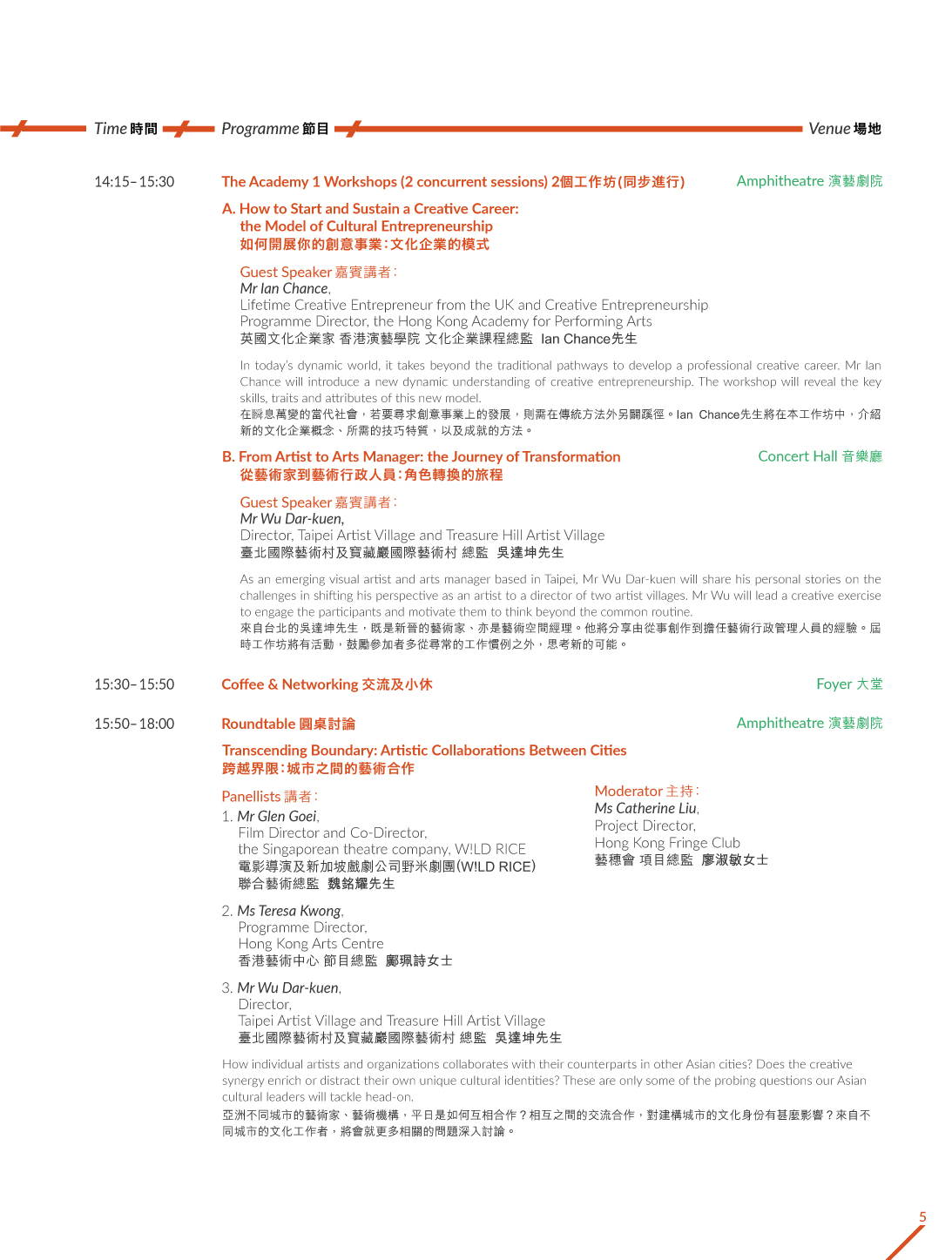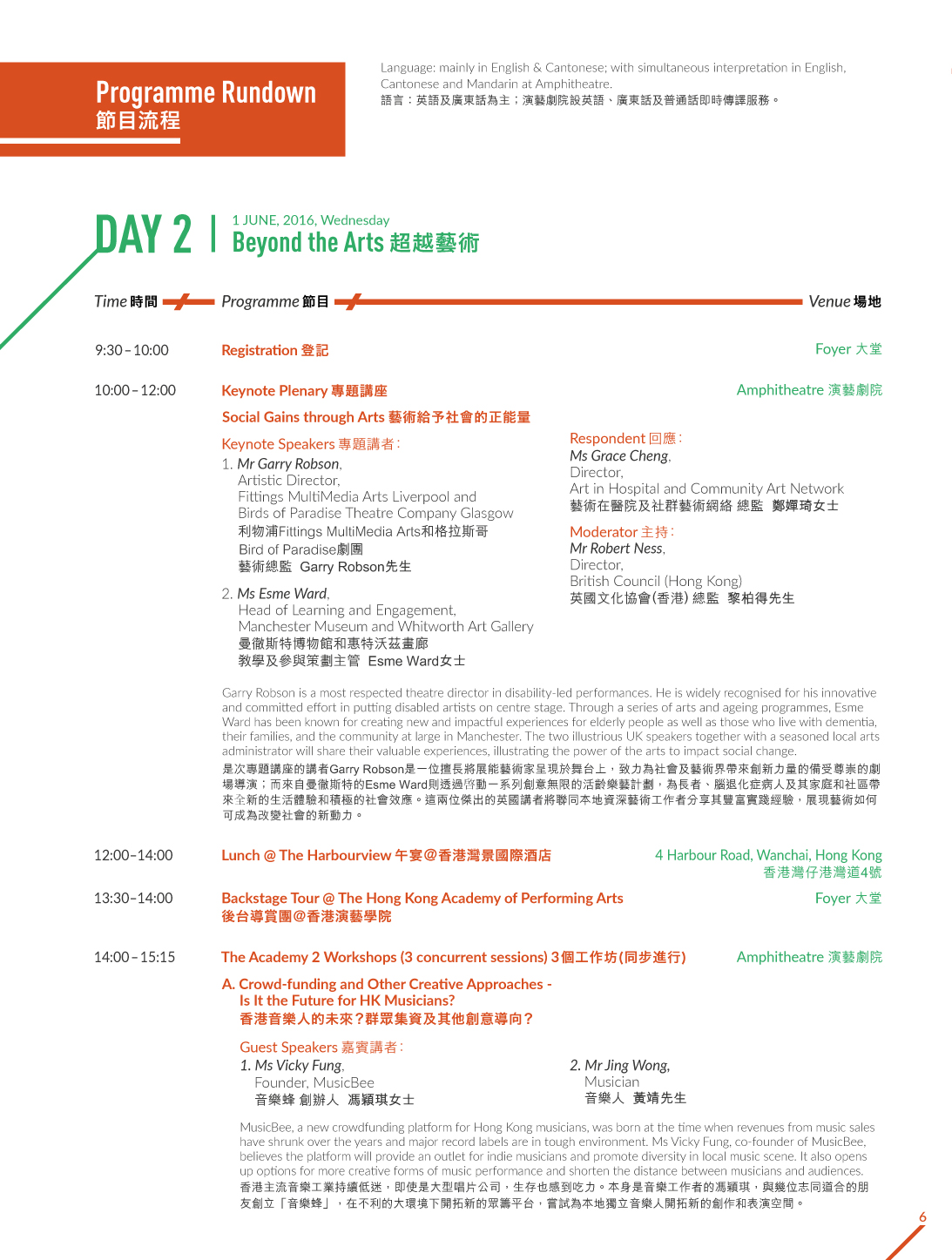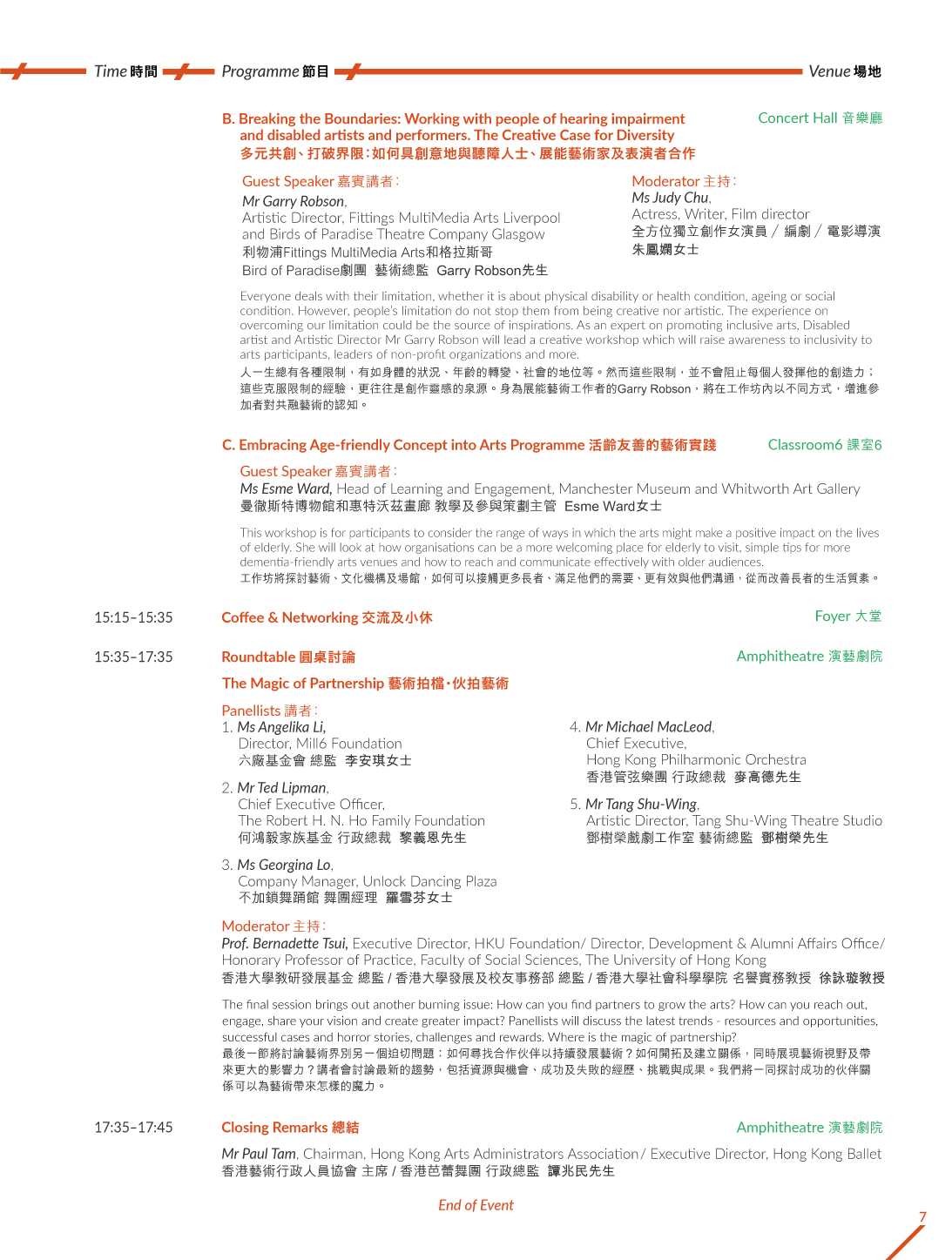 Summit Speakers / Respondents / Moderators
(updated as on 29 Apr 2016) 
Mr Timothy Calnin, Executive Director, Performing Arts of Sydney Opera House
Mr Ian Chance, Lifetime Creative Entrepreneur from the UK/ Creative Entrepreneurship Programme Director, the Hong Kong Academy for Performing Arts
Ms Grace Cheng, Director, Art in Hospital and Community Art Network
Ms Vicky Fung, Co-Founder, MusicBee
Mr Glen Goei, Film Director and Co-Director, the Singaporean theatre company, W!LD RICE
Ms Teresa Kwong, Programme Director, Hong Kong Arts Centre
Ms Angelika Li, Director, Mill6 Foundation
Mr Ted Lipman, Chief Executive Officer, The Robert H.N. Ho Family Foundation
Ms Catherine Liu, Project Director, Hong Kong Fringe Club
Ms Georgina Lo, Company Manager, Unlock Dancing Plaza
Mr Him Lo, Socially Engaged Artist
Mr Michael MacLeod, Chief Executive, Hong Kong Philharmonic Orchestra
Mr Robert Ness, Director, British Council (Hong Kong)
Mr Duncan Pescod, GBS, JP, Chief Executive Officer, West Kowloon Cultural District Authority
Mr Garry Robson, Artistic Director, Fittings MultiMedia Arts Liverpool and Birds of Paradise Theatre Company Glasgow
Mr Paul Tam, Chairman, Hong Kong Arts Administrators Association / Executive Director, Hong Kong Ballet
Mr Tang Shu-Wing, Artistic Director, Tang Shu-Wing Theatre Studio
Prof. Bernadette Tsui, Executive Director, HKU Foundation / Director, Development & Alumni Affairs Office / Honorary Professor of Practice, Faculty of Social Sciences, The University of Hong Kong
Ms Esme Ward, Head of Learning and Engagement, Manchester Museum and Whitworth Art Gallery
Mr Jing Wong, Musician
Mr Wu Dar-kuen, Director, Taipei Artist Village and Treasure Hill Artist Village
Mr Louis Yu, Executive Director, Performing Arts of West Kowloon Cultural District Authority
MC: Ms Judy Chu, Actress, Writer and Film director
 
And more...
 
Language: mainly in English & Cantonese; with simultaneous interpretation in English, Cantonese and Mandarin at Amphitheatre.
Presented by Hong Kong Arts Administrators Association


In Partnership with British Council, The Hong Kong Academy for Performing Arts and West Kowloon Cultural District Authority



Supported by Hong Kong Arts Development Council

Supporting Partners: Arts with the Disabled Association Hong Kong and Hong Kong Arts Centre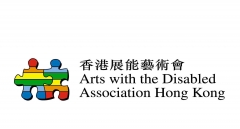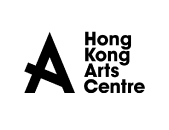 Media Partner with Artmap, Artplus and Pixelbread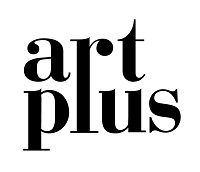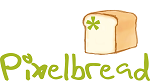 The Hong Kong Arts Administrators Association reserves the right of final decision of any changes in venue, date, time, fee, content and speakers of the event due to unforeseen circumstances.