Overview
---
Due to the rapid development in the arts and cultural sectors, there is a huge demand of well-designed arts administration courses in Hong Kong. With the support of the Hong Kong Arts Development Council, the new twelve‐day course is designed for arts administrators, independent producers, freelance arts practitioners to gain new knowledge and enhance practical skills in arts management.
Curated by Ms Heidi Lee, the Executive Director of Hong Kong Ballet, the scope covered in "Essential Guide to Effective Arts Management" includes the essential topics and issues that arts administrators and artists may face in their daily work, such as event planning, crisis management and ticketing. This course will provide you with an overview on the new ways of marketing, branding promotion as well as public relations with online workshops. The insightful sharing sessions and case studies can be the model for developing arts and cultural projects. The "Essential Guide for Effective Management" course consists of a series of three modules:
Course details
Period: 15 December 2020 to 23 March 2021
Time: Tuesday evening
Format: Online Workshop*
Language: Cantonese / English 
e-Learning Platform: http://essentialguide.hkaaa.org.hk/
Target: Arts administrators, independent producers and artists
*Since social distancing policy is still in effect in Hong Kong, the event will be conducted virtually. 
About Essential Guide
---
Essential Guide was first launched in 2018, it is the unique course for Arts Administrators that organized by the Hong Kong Arts Administrators Association. For the past series, HKAAA invited local industry experts to share knowledge and real case experiences. The first Essential Guide focused on Effective Arts Management with four areas: Law, Marketing, Finances and Project Management. The four modules of workshops and interactive exercises attracted a full house of participants from the arts sector.
In 2019, we held its sequel, Essential Guide on Smart Touring, a curated course on touring management. Both programmes were extremely well‐received. This year, we would like to reboot the series on Effective Arts Management.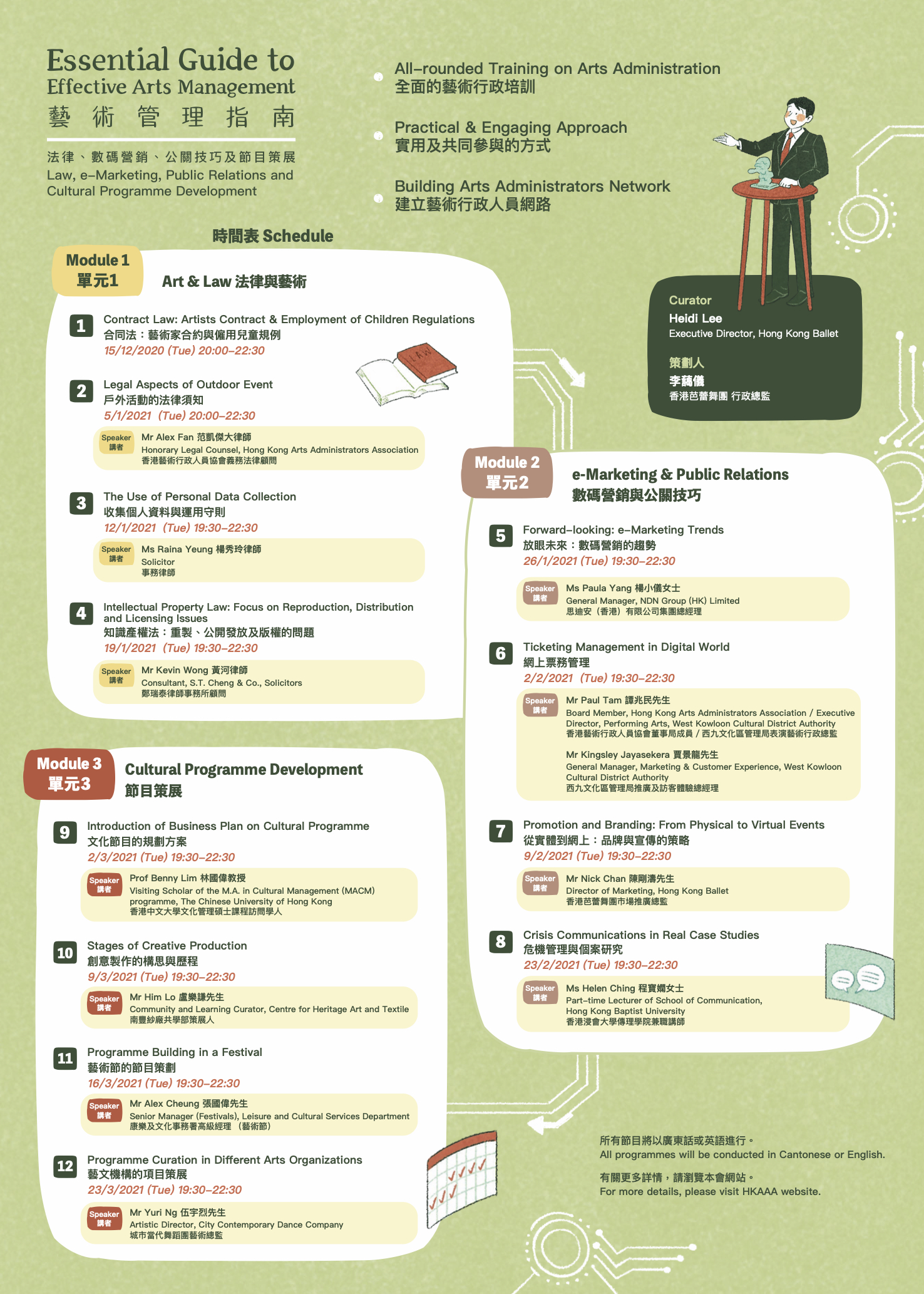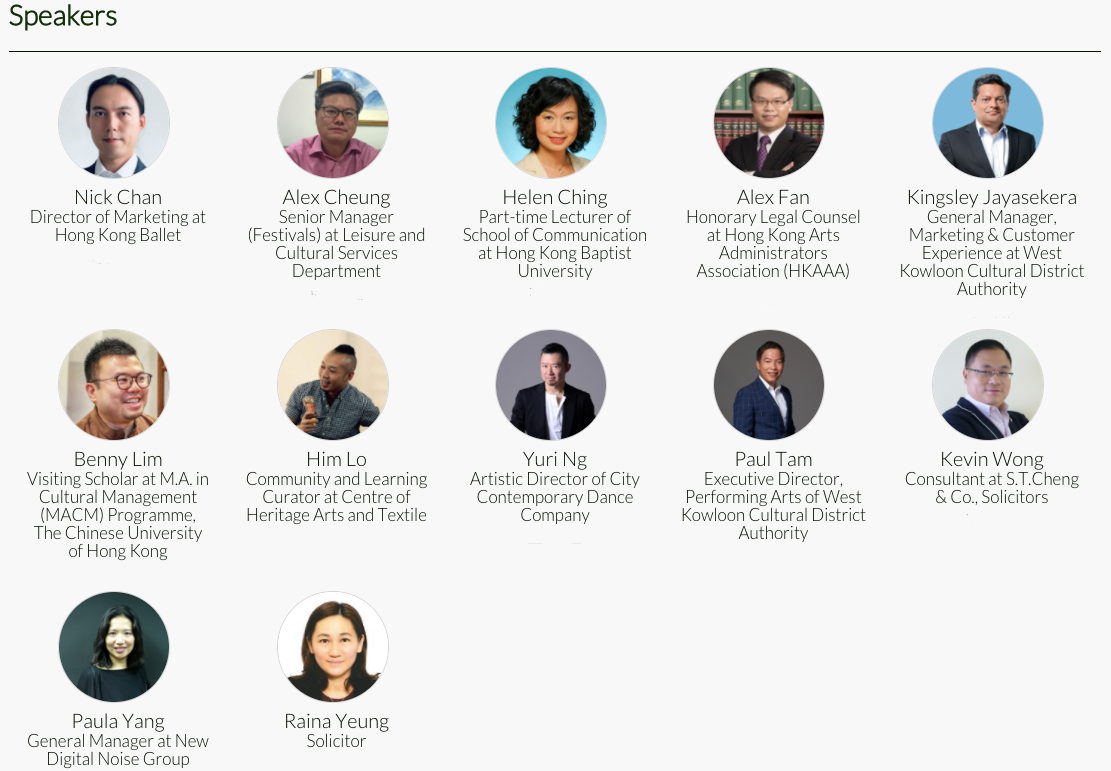 Registration
---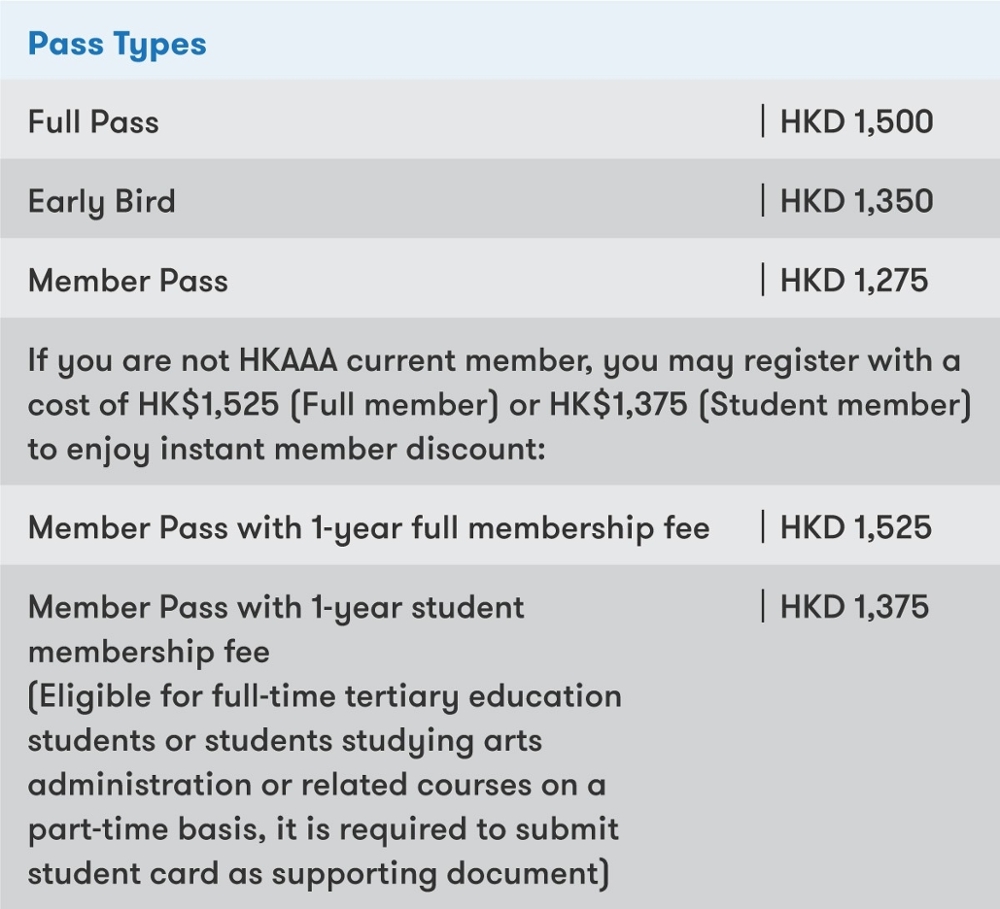 Note for registrants:
'Full Pass' will be sold on a first come, first served basis and while stocks last
For individual registration who purchases 'Full Pass', you will have the access to ALL 12 online workshops and receive an "Essential Guide" course booklet
Public registration can enjoy 10% discount on 'Full Pass' during early bird period
HKAAA members can enjoy 15% discount on 'Full Pass'
If there are places left, 'Class Pass' will be available for public registration from 23 November 2020
About HKAAA membership:
Full member is HKD $250 per year
Student member is HKD $100 per year
To learn more, please check our membership page
If you purchase 'Full Pass' with membership fee, HKAAA staff will contact you and process your membership application with 3 to 5 working days.
 

----------------------------------------------------------------
All classes are FULL on POPTICKET
Early bird until 22 November 2020
Public sale from 23 November 2020
----------------------------------------------------------------
Enquiry
Ms Kristy Yu
2877 7268
kristy.yu@hkaaa.org.hk

For group booking registration, please contact:
Ms Kelly Duen
3621 0514
kelly.duen@hkaaa.org.hk
Course Terms and Condition
---
Essential Guide to Effective Arts Management: Law, e-Marketing, Public Relations and Cultural Programme Development (hereafter "Essential Guide") is hosted by Hong Kong Arts Administrators Association (hereafter "HKAAA"). (Updated on 05 November, 2020)
HKAAA reserves the right on the final decision in all matters pertaining to the "Essential Guide". Any changes or contingent measures for the event will be posted on HKAAA's website and social media platforms.
Any individual is deemed to read and agree to comply with and be bound by the corresponding terms and conditions once they participate in Essential Guide. The Organizer reserves the right to disqualify the submission of any participants who fail to comply with these terms and conditions and/or to pursue any act intended to corrupt Essential Guide.
 
HKAAA reserves all rights to make alteration regarding the course schedule, content and speaker if necessary.
 
Course registration will be assigned on a first-come-first-served basis. 
 
No refund is allowed after registration is completed. Registration fee paid for duplicate entries will not be refunded and places are not transferable. If a participant is absent from the class, no refund or class transfer will be allowed.
 
Audio recording, photography and video recording are strictly prohibited during class.
 
I grant permission and consent to the HKAAA to utilize my personal information, appearance, name and voice, in connection with the Essential Guide in any and all media and agree to waive any right of inspection or approval associated thereto for the publicity of Essential Guide that my appearance and name may be used in the website, video and publication of the HKAAA related to the Summit.
 
The copyright of all Essential Guide content is owned by the HKAAA. Republication, redistribution or unauthorized use of any content is strictly prohibited. HKAAA reserves the right to take legal action against the aforesaid acts.
 
Any of the information collected from form and online registration as Essential Guide's participant will be used for delivering the information including, but not limited to, the upcoming activities, discount, benefits, newsletters, online resources and other promotional activities provided by HKAAA and our partners. We respect your privacy and will not share information you give us about yourself with other organizations. If you would like to access / correct your personal data or do not want to receive such information, please contact us.
 
The HKAAA reserves the right to make the final decision in the event of any dispute. The HKAAA reserves the right to amend these terms and conditions and other arrangements without prior notice. In case of any dispute arising out of or in connection with this Essential Guide, the decision of the HKAAA shall be final and conclusive.
e-Learning Platform
---

For all pass types participants, you may now login to the e-Learning platform (https://essentialguide.hkaaa.org.hk/).
For login instruction, please refer to the email [Essential Guide to Effective Arts Management] Login instruction that we have sent you earlier.
Through this platform, you will be able to access the workshops, do replay, connect with speakers and participants, as well as download any course materials there.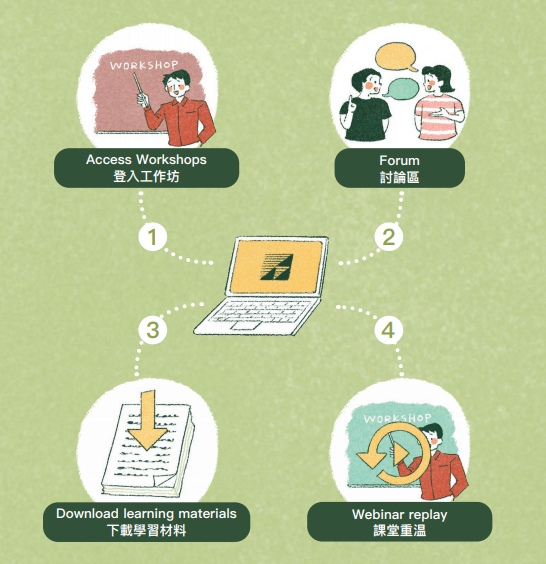 Notes:
You may attend any Essential Guide workshops through desktop version internet explorer or mobile device. For anyone who prefer to use mobile version, please download Moodle app to experience the best layout.
After you downloaded the app, please insert https://essentialguide.hkaaa.org.hk/ and use of your user login information to access Essential Guide.
Please feel free to download Moodle app at https://download.moodle.org/mobile. 


Further Reading
---
【推介】新時代的藝術管理指南:法律、數碼營銷、公關技巧、節目策展 - The Culturist 文化者 (20-11-2020)
疫下首辦線上工作坊 「藝術管理指南」課程學員:學懂如何作相對應變 - p-articles 虛詞 (16-04-2021)